For two decades, New Age Protection (New Age) has provided cutting-edge services, support, and solutions in the areas of Industrial Security, Technology, Logistics, and Professional Services to all levels of government and the education and commercial sectors. Our extensive knowledge of public, private, and military organizations gives us the unique ability to address the security and professional service needs of not only intelligence, defense and civilian agencies, but any kind of organization seeking safety and security for its people, facilities, assets, technology systems and data.
With more than 300 employees nationwide, New Age is gaining broad recognition as a small business with large business capacity. Our lean corporate structure contributes to our agility when clients need support, while our resourcefulness and innovation enable us to offer tailored and cost-effective solutions in a moment's notice. In so doing, we maintain a highly-skilled workforce – 85% of whom hold a Secret or Top-Secret Clearance and 80% of whom hold a Top-Secret Clearance with Sensitive Compartmental Information (SCI) access or eligibility.
Our lean corporate structure enables us to offer tailored solutions implemented faster and cost-effectively to support your mission.

About the Academy
The New Age Protection Training Academy (NAPTA) delivers training and certification courses to individuals entering the security or investigation field, security professionals seeking in-service training, as well as government and corporate security forces. Accredited by the Virginia Department of Criminal Justice Services, our curricula cover the latest security practices and law enforcement technology.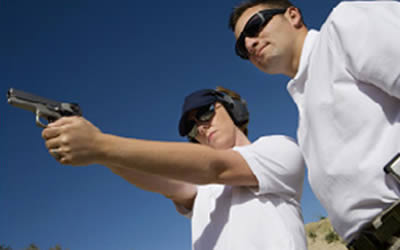 Academy Instructors
New Age Academy training is delivered by seasoned security experts, including, many who have implemented security programs for intelligence, military, and government agencies. In addition, all members of our faculty are certified by state and/or federally recognized organizations.  Our instructors have the experience to deliver real life skills and best practices.
Training Format & Facility
New Age Academy courses are delivered in a variety of instructional methods, including classroom, hands-on experiential learning, practical instruction methods, and range training for firearms courses.  Students learn law enforcement best practices by putting theory into practice.
CAREERS @ NEW AGE
New Age Protection recruits talented professionals to fill exciting positions, in government agencies, corporations, and college campuses. We recruit for high-demand positions, including administrative, analytical, program management, security, and other law enforcement positions.
New Age is an Affirmative Action and Equal Opportunity Employer. It is our policy to provide equal opportunities to all applicants and employees regardless of race, religion, gender, color, national origin, ethnicity, age, marital status, veteran status, disability, and/or another legally protected status.
New Age currently has rewarding job opportunities located throughout the United States. Explore our job vacancies and find your dream job!